The Club Scene
Act 11:
The Pre-Party


In preparation for Silvana Imam's concert at Borås Art Museum, MYCKET's party fairies moved the pre-party to the museum! The night was a final manifestation of the several months long project Puzzle Riot, and began with MYCKET's party fairies' pre-party. Like a wandering club, they prepared the room, crushed the velvet and released the power to you. With glittery kisses, starry sprinkles and an otherworldly clamor, MYCKET mislead anyone who wanted to join in.

Co-creators: Annie Jonasson and Frida Sandström
Photo: Karolina Pahlén
Puzzle Riot is presented in connection with the

Screens and Mirrors

exhibit at Borås konstmuseum, Borås Art Museum. Puzzle Riot is arranged by KulturUngdom, Borås Art Museum, Slöjd i Väst och and Borås Pride.
Clubscenen
Akt 11:
Förfesten


Inför Silvana Imams konsert på Borås konstmuseum, flyttade MYCKETs festféer förfesten till konstmuseet! Kvällen var en finalmanifestation efter det månadslånga projektet Pussel Riot och inleddes med MYCKETs festféers förfest. Som en vandrande klubb beredde de rummet, krossade sammeten och tog fram kraften i dig. Med glitterkyssar, stjärnströssel och överjordiskt skrammel förledde MYCKET alla som vill vara med.

Medskapare: Annie Jonasson och Frida Sandström
Foto: Karolina Pahlén
Puzzle Riot sker i samband med utställningen

Screens and Mirrors

på Borås konstmuseum. Puzzle Riot is arranged by KulturUngdom, Borås Art Museum, Slöjd i Väst och and Borås Pride.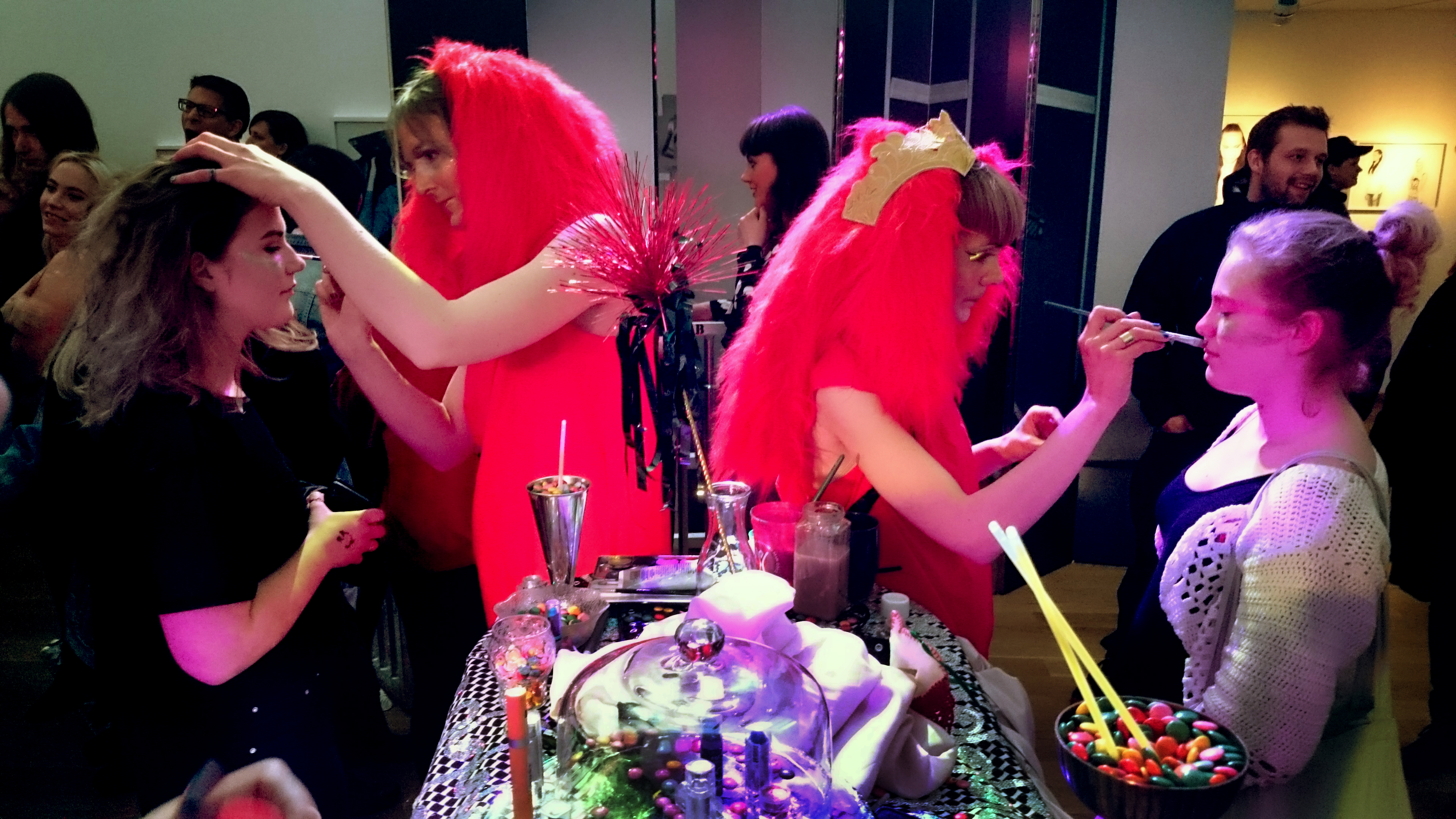 Distort our minds,
charm our pants off,
and may all the bleak thoughts of regret
be entrapped in a web of high-tension wires,
for when the ordinary Thursday
gives way to the party night,
we prepare ourselves to be blinded
by the force of nature that is Silvana Imam.









Förvrid våra huvuden,
charma brallorna av oss
och må alla kranka eftertankar fastna
i ett spindelnät av högspännings-kablar
för när den vanliga torsdagen
övergår till festkväll
förbereder vi oss på att bli bländade
av Silvana Imams naturkraft.







About The Club Scene
MYCKET's artistic research project The Club Scene, The Club Scene, began in the fall of 2012. The project is affiliated with ArkDes, the Swedish National Center for Architecture and Design, and funded by Vetenskapsrådet, the Swedish Research Council, from 2014-2017. We investigate the architecture of the (night)club through extensive enactments of historical queer and feminist clubs, complete with costumes, décor, guests, dance and performers. We are working to elevate the understanding of how architecture and design can support difference and create a more tolerant world where there is room for everyone.


Om Clubscenen
MYCKETs konstnärliga forskningsprojekt Clubscenen startades hösten 2012. År 2014-2017 drivs projektet på ArkDes och genom finansiering av Vetenskapsrådet. Genom omfattande iscensättningar av historiska queera och feministiska klubbar komplett med kostymer, dekor, gäster, dans och performers undersöker vi (natt)klubbens arkitektur. Vi arbetar för att höja förståelsen för hur arkitektur och formgivning kan stötta olikheter och skapa en mer tillåtande värld där det finns plats för alla.